WELCOME TO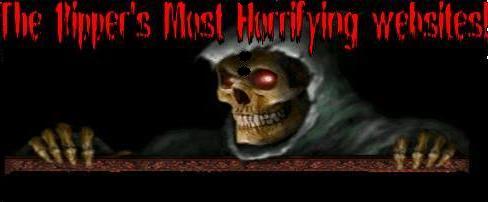 Add Your Site
|
Member Login
Site Of the Moment:
Gugel's Gore 'N More

Home-Haunted Display for Trick or Treaters in Davenport, FL.
| Create Your Own Toplist FREE
Rank
Site
Rating
In
Out
151

Winterslament



10.00
0
0

horror graphics, and poetry in a haunted mansion setting.


152

Ghosts And Greys



NR
0
0

The world of the Paranormal and the unexplored reaches of outer space have intrigued humen beings for countless generations. Come with us and delve in to these fascinating realms.


153

sumogorilla.com



10.00
0
0

rare hard to find horror, scifi and cartoon dvds!


154

The Demon Knights



NR
0
0

This ring embraces sites of the night, of all the things of horror and fright. Mystical, mythical, undead and Halloween and all the things just inbetween. If demons and gargoyles are your thing and dr


155

Hauntspace.com



NR
0
0

Haunter's community with members pages, forums, blogs, and more!


156

Skeletons And More



9.00
0
0

We specialize in custom designed skeleton and bone props. Choose from our own hand created designs or we can build to your specifications. Also carry selection of Masks, skeletons, and skulls.


157

Hauntedratings.com



9.00
0
0

Hauntedratings.com is the most comprehensive listing of Haunted Attractions in the Denver, Colorado area. Find out everyting you want to know about Denver Haunted Houses at Hauntedratings.com


158

Zombie Junky



NR
0
0

My site dedicated to Zombiephiles everywhere, The latest news on Books, Movies and anything else Zombie related.


| Create Your Own Toplist FREE
Powered by WebRing.
Page:
1
2
3
4
5
6
[7]
Last Update: Tue, 02.20.18 16:25
Next Update: Tue, 02.20.18 17:25
Next Reset: Tue, 02.27.18 7:25
Sites: 158
Powered By GoTop100.com